---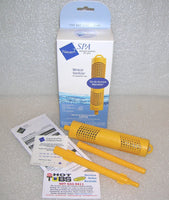 Nature 2 mineral cartridge by Zodiac.
Sanitizer is .92 percent silver nitrate
4 month lifespan if used correctly - directions included.
Rides inside filter cartridge or compartment to allow water flow around silver pellets inside cartridge.
Compatible with ozone systems, but do not use with copper algaecides or biguanide sanitizers (hydrogen peroxide)
Also includes spacer sticks to fit most applications, and calendar sticker kit to keep you reminded.
For spas and hot tubs up to 500 gallons.
Choose '3 BUY to get a year's worth and save $8 !