---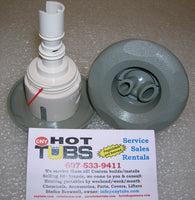 Released in 2011, the Thread-in style jets made removal and cleaning easier.
3 inch face diameter
Jet stands 3 5/8 inches tall
5/16 inch nozzle flows 10 GPM at 10 psi.
ARROW shows distinguishing characteristic of these jets; simply unscrew to inspect nozzle for debris, and screw back in  until tight, then 1/4 turn left to right controls flow.
This TWIN ROTATIONAL version is available in White, Grey or Black, smooth and scalloped, and stainless steel face.