---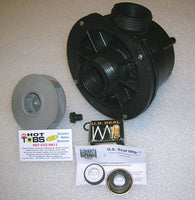 NO LONGER AVAILABLE- CHOOSE THE WATERWAY E-SERIES PUMP
48 frame 1/2 hp thru 2 hp, choose your match in drop down
Note 8 reinforcing ribs across faceplate, 4 mount screws, and flat section across discharge side.
1 1/2 inch standard pump union threads.
Main seal is installed with silicone (100%) around stainless cup.
This pump is nearly identical to the discontinued Sonfarrel/Martec center discharge, and will replace it without altering piping.
Email us for skimmer basket assembly.
Complete pump includes all pictured.