---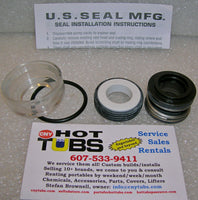 For 5/8 inchshafts, 4 piece complete seal set.

Choose Good (Graphitic plastic), Better (Viton) or Best (Silicon Carbide)

Used in Hayward SP1500, 1580 & 1700 series as well as older AquaFlo TMCP and FMVP pumps.

Use small amount of silicone grease to help seat seal rubbers.

MFG #'s:  PS-2131, 40716, 5111-03, 5160-09, 5250-104A, 610377039321, 610377040785, 610377793506, 8410-04, 91049000, PS-1906, PS-3869, PS1906, PS2131, PS3869, SP-1720-KA, SPX1250XZ2C,  SPX1500KA,  SPX1720KA, VG-2131.