---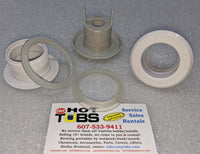 'L' style gasket seals wall fitting against liner along with grey plastic ring. Sold individually, shown on card. Softub part # 9009500.
gasket seals in tandem with flat grey ring - raised RIB on ring goes outward, towards liner. TIP: lubricate gasket, insert into spacer ring, then insert both on wall fitting. Gasket is sandwiched between wall fitting and ring. Do not overtighten, lube assists in making seal.

Use silicone grease sparingly to lubricate, sold nearby as "lube tube" Brand.