---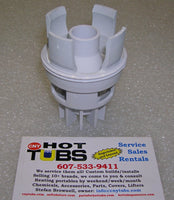 'Four Finger' internal used in Softubs for the first 18 years of production.

Holds the standard directional 'eyeball' nozzle, as well as the 'bowtie' spinner Pulse Flow jet (both shown on Softub jets page).

Typical failure over time is inability to hold directional nozzle tight allowing it to fall out or sit loosely and prevent it's "aim" to stay set.

Internal threads in against Air Seat Ring: DO NOT over-tighten, this damages ring and will lead to cracks.

Internal should be inspected yearly; lint and debris will accumulate on back side fins decreasing jet pressure.