---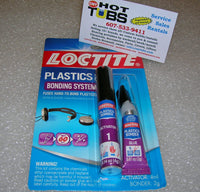 Used for bonding clips and repairing broken trim pieces.
2 part epoxy used for PVC, polycarbonate, Acrylic, ABS, FRP, and many other plastics. NOT recommended  for pvc piping bonds & repairs -use pvc cement.
Best results are had when both surfaces are clean and dry.
Lightly sand both surfaces, apply mixed epoxy to both, join and clamp/weight pieces.
On vertical surfaces duct tape may be used to hold part overnight.