---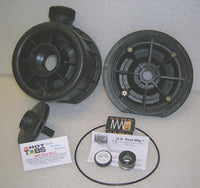 3/4 and 1 hp versions '94 and up.
Complete pump head (special order) includes:

front and back halves of pump
impeller
o-ring
main seal
drain plug

This insulated pump head is OLD but fairly common.
NOTE: 6 nuts/bolts to hold two halves together, one drain plug, and 1 1/2 inch FEMALE threaded intake with 1 1/2 inch MALE threaded discharge. There are many of these produced before '94 but considered obsolete due to main O-ring seal design.