---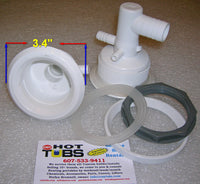 Jet body includes:

raised flange gasket
nut
alignment ring

Barbed for 3/4 inch water and 3/8 inch air supplies.
Utilizes a 2.5 inch hole size
Supplies 16 GPM at 15 psi through a 3/8 inch hole
Has an air check valve to not let water back flow into air lines and get stanky.
Use 100% silicone to seal through shell.