---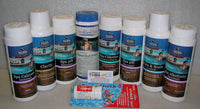 The premium starter kit for well water hot tubbers!

Save $7. and get the kit!   - SHIPS FREE!

All the core chems plus everything else you'll need to keep that sketchy source water tamed.

The key to getting a good start is using a fill filter (if possible) and then adjusting all metals/Alkalinity/Ph before adding any chems.

Remember to rinse that filter the next day!

5 in 1 strips include hardness as well as pH, Alkalinity, free & total chlorine.