---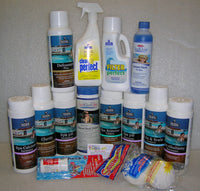 Save 10% off our already sale prices on this huge kit!! Price includes freight too, ouch!
This package includes:
1.5 lbs of bromine tablets
2 lb. MPS shock oxidizer
1 EACH of: pH up, pH down, Alk up, Filter Perfect, Clean & Perfect, Calcium Hardness Increaser, Stain & Scale, System flush pipe cleaner, defoamer, clarify, and two scumball oil & grease absorbers!
5 in 1 test strips (50) with pH, Alkalinity, total bromine, free bromine, and hardness.
A great deal!