---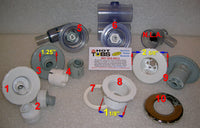 Available in White only
SUPER

 

Micro Magna jets had glue-in wall fittings, now discontinued; other parts are interchangeable.

Two jet bodies available now (#5,6) using 1-3/4" hole size.

They require gasket (7) and threaded wall fitting (8).

Choose GREY or WHITE Handle (9) or complete jet internal in directional (3) or spinner

(1) Jet handle internals also sold individually (2,4).

Stainless escutcheon available (10) to press fit on handles.