---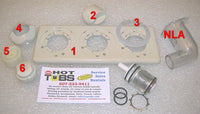 Three position panel may include a combination of air knobs, thermostat knob, or accessory button(s).
Available Light grey(silver) and white now,  this is the panel ONLY (3 hole plate).
Shown on left is 3 piece air button; from top to bottom is: BEZEL, GUIDE, and BUTTON.
Shown top middle is control KNOB used for air or heat. This will directly pull straight up to remove.
TRIM RING on face plate with decreasing bubble icons is for under air control use of the knob. This needs to be carefully picked out of existing control panel to allow access to stainless mounting screws.
Shown far right is air control VALVE BODY, which holds VALVE, shown bottom right. Valve body small end is 1/2 inch slip for PVC supply piping.
O-rings shown removed from valve for reference, metal snap ring holds valve inside body. If replacing valve, the snap ring needs to be lifted out, then valve can be picked out of body, and new valve inserted.
Inquire on flexible thermostat cable and associated parts.