---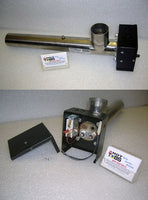 CURRENTLY UNAVAILABLE





Replaces JWB# 6521000
240 Volt
5.5 kW
2 1/4 inch slip ends for couplings
17 3/8 inches long
Two thermowells for sensors, hi-limit included and installed.
The standard heater for decades for numerous Jacuzzi models. Recently available with replaceable element (not shown).
NOTE: Picture showing large nut under connection terminals identifying a replaceable element unit. Prior heaters from the 80's-2009 DO NOT have replaceable elements.