---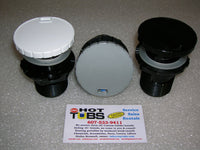 Flat top Low Profile design works well under covers
1 3/4 inch hole size
1 inch slip female PVC bottom
For vertical or horizontal applications
Small window in cap shows minimum to maximum adjustment.
Available in 3 colors.
1/2 inch PVC versions with 1 1/16 inch hole size available as well, email us for more info.