---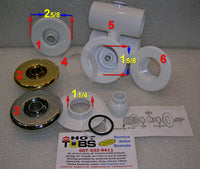 Complete jet uses 1 inch air and 1 inch water body
1 3/4 or 1 5/8 inch mounting hole size
Includes #'s 1,4,5,6 in photo.
Jet face diameter is same for all 3 styles
White only in complete version
Chrome and polished brass faces available as well.
Individual parts sold in drop down menu.