---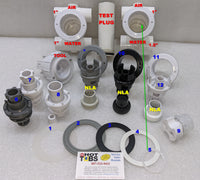 READY TO GO! - PARTS IN STOCK FALL 2022 !
Click on picture to enlarge detail - choose parts in menu on right
3 Bodies available: All come with white wall fitting and gasket. 1" air X 1" Water (Softubs) , 1.5" air X 1.5" water, and 1" air X 1.5" water ( not shown) 
'NLA' = No Longer Available. We do have some used nozzles sold elsewhere on our parts page, if in stock. Move to #6 or 7 to replace - same flows.
Grey wall fitting ' * ' is dealer INSTALL only item !?!, not to be sold online...
To use Pulse-Flo jet (#9), you'll need PRE-2006 Tub model that has # 12
Vari-Flo directional jet (adjustable pressure #6 #7) and Whirl-Flo jets (Monster flow #8 )will fit ALL Softub models, which may mean removing existing internals from 2007-present.
Make sure ALL year model Softubs have the 'air seat ring' (#5) installed in bottom of jet body under every and all style of jet, new or old to make air draw pull in correctly when air control is opened up.
TOOL has 2 pins for ALL wall fittings, and backside is to remove PRE-2006 "4 finger"  internals. Current 'logo face' jet internals can be unscrewed to clean & inspect with our proprietary jet tool ( sold nearby -yellow ) after popping out jets ( twist & pry method).
Contact us about pressure testing & plugs - we can supply kits depending on your year & model!