---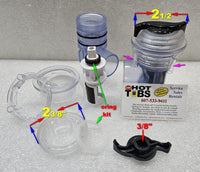 Used to control waterfalls, neck jets & water features.
Sold as complete unit, or 3 piece oring kit only - choose in menu.
Clear spacer ring on sleeve has four ports for inserting LED lights ( purple arrows).
MFG # 25036-191-999
PRO TIP: Black rubber seal block on internal can dislodge and travel in piping  towards water feature and clog/reduce flows.