---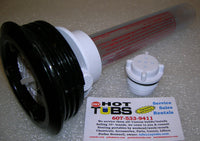 DISCONTINUED! 

sorry folks, get out the super glue or get another cap and use a floater if needed..

For 1 inch chlorine/bromine tablets.
Includes:

o-rings
check valve cap (shown by card)

TIP: for normal spa use (2-3 times a week) there should only be 1-2 tablets for small spas and 2-3 tabs for large spas. Dispense rate arrow should be set on 3or 4.
Ships direct from mfg. please allow 10-14 days for delivery.