---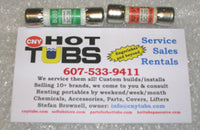 Found in most spas on circuit boards or in their own base mounts.
Slow-blow fiber centers last for years.
Replace these cheap solutions first to troubleshoot no power scenarios.
Choose 20 Amp (orange) and 30 Amp (green) ratings.
When testing with a meter, remove from holder and Ohm reading should be 0.00 if good.