---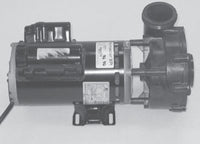 This pump ships warehouse direct, please allow 2-4 weeks for delivery.
48 frame size
2 inch unions in/out
Emerson motor
All prices include assembled pump/motor complete, delivered continental US UPS ground unless otherwise noted. 
NOTE: Part numbers ending in NC do NOT include a cord.
If you are unsure of your application, please email us at info@cnytubs.com with your spa serial number and we can confirm. Most pumps have a silver label on the motor body giving the specifications.