---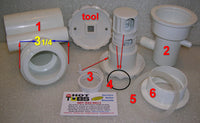 Parts 1-6 sold separately in drop down menu 
Two bodies available now - 6/2018 :
#1 : 1 1/2 inch slip water, and 1/2 inch slip air.
#2 :  3/4" barb water, 3/8" barb air
Both require a 2 5/8 inch hole size.
When ordering bodies, gasket (#5) and threaded wall fitting  (#6) are included. Backside of jet is shown for reference. ALL 'luxury' jets fit these bodies.
Jet retaining clip shown (#3). Full ring is 1994 and up, and half ring is 1993 and previous which is now DISCONTINUED.  Jet seal orings (#4) help seal against water blow-by and retain tension for adjustability.
Wall fitting tool with two steel pins fits these wall fittings, as well as 2 and 3 port Diverter Jets.