---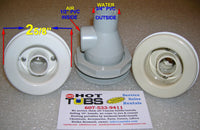 WHITE and GREY/SILVER now in stock!
Includes jet body, nozzle, lock ring, screws and nut.
Positively identified by 3 merging holes in orifice inside jet internal nozzle.
Hole size needed is 2 inches
Jet body has 3/4"  water and 1/2" air slip glue fittings.
TIP: Use 100% silicone to seal to spa shell.
See nearby post for jet KIT, which includes common pvc fittings needed.