---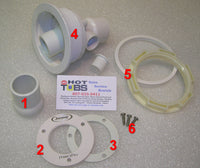 No longer available
, separate parts sold only.
If you need whole jet, use the HTC series, as 3.5 inch hole size through shell is the same.
Complete pic shown for reference.
Stainless bolts are common #8-32 x 1/2 inch.
Older bodies will have screws that bite into plastic.
Newer bodies have brass threaded inserts and use stainless bolts.