---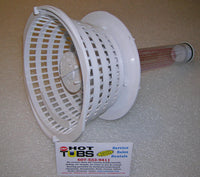 Deep style skimmer basket with attached chemical dispenser.
Basket measures 6 3/8 inch across
5 13/16 inch across flat to flat surface
Height is approx. 3 inch.
Tube accepts 1 inch bromine or chlorine pills and flow rate is adjusted by arrow lever in middle of basket.
Check valve at tube base included.