---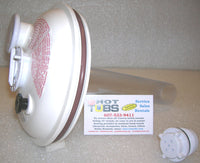 Used in RTL and RCF systems, MFG # R172540, product # RAI-051-3501
Complete dispenser includes:

cap o-ring
bleeder valve with o-ring
check valve on bottom of tube with o-ring

Accepts 1 inch bromine or chlorine tablets.
Lock ring sold under plumbing parts page. 
TIP: For normal spa use (2-3 times a week) there should only be 1-2 tablets for small spas and 2-3 tabs for large spas. Dispense rate arrow should be set on 3 or 4.