---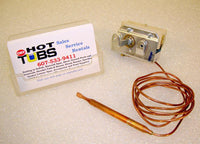 80 to 106 degree calibrated
120 Volt
25 Amp
Single-pole single-throw (SPST)
Flat spade connection tabs, or short wire leads connected.
These are generic and fit ALL, except Hot Springs/Tiger River.
Mounting holes are standard throughout all spa brands.
Split-shaft slides up into all knobs.
Sold by lead length and bulb (end) thickness.
Use only in dry-well locations.