---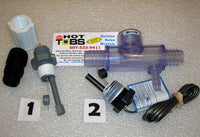 Two versions shown:
LONG Harwil version: (LEFT in photo) Typically in older installations and direct wired through cap. New style is wired at tip, and compression fitting included to seal wiring. 120Volt, 2 Amp rating, switches on at 10 GPM, and off at 2 GPM. ABS plastic body with stainless spring arm. 1/2 inch npt base, with flow direction arrows molded into top.
SHORT Allied Innovations version: (RIGHT in photo) More common in newer spas like Jacuzzi, Sundance, D1 and numerous others. Clear body allows visual inspection. 1/2 inch npt threads with flow direction arrows posted on body and switch top. Low voltage wire leads may need to be adapted/spliced to your wires.
Choose SHORT or LONG for your application. Install with teflon tape and note flow direction.