---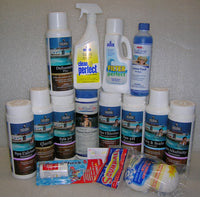 Natural Chemistry HUGE starter kit, ridiculous! save $15. on kit purchase!
Includes one each of:

2 lb. MPS balanced shock
2 lb. chlorine (99% dichlor)
Calcium Hardness Up
Clarify
Clean& Perfect 
Filter Perfect 
Stain & Scale
Defoamer
System Flush pipe cleaner
Alkalinity Increaser
pH up & pH down
two Scumball oil & grease absorber sponges

5 in 1 test strips - free & total chlorine, pH, Alkalinity and hardness
If using a natural sanitizer cartridge (mineral), choose the recommended compliment - Spa Frog, Nature2, etc.