---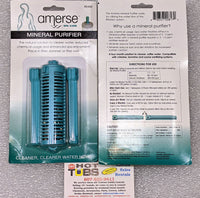 4 month life, works with Chlorine, Bromine and Ozone!
Sanitizer levels are effective at .05 to 1 ppm.
Say goodbye to skin & eye irritation with minerals!
These sanitizers break down and reduce odors naturally.
Includes spacer stick for longer filters, or discard for other applications.
Compare to Spa Frog ant Nature2  stick sanitizers.
Utilizes 1% silver nitrate as primary active ingredient.