---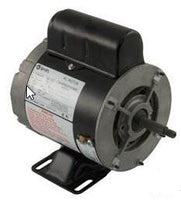 Used in many brands for 24 hr circulation.
Typically have AquaFlo FMCP, CMHP or TMCP wet ends.
48 Frame size single speed 'stubby' motors came in 1/15 HP ( USE 1/8 now)1/8 HP, 3/4 HP and 1 HP.
AO Smith and US Motor brands, depending on application.
Choose your version in drop down menu.
All motors have manufacturer 1 year warranty.
Choose motor:


1/8 HP 115V 1.6 AMP replaecs mfg # 3410030 , 3410030-1 , 34100301 , 5030-222 
 3410020 , 3410020-1 , 34100201 , 5030-223
3/4 HP 115V 10AMP replaces mfg# 177893 , 18889 , 3410310 , 3J10310, 786674014351 
3/4 HP 230V 5.7 AMP replaces mfg# AGH75FL1, 5238-74 $200.00 H351841058
1 HP 115V 11.8 AMP replaces mfg# BN25,16436 , 177894 , 3410410 , 3410410-0, 3410410-1