---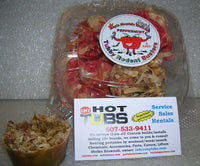 Tubby Rodent Busters by Maple Mountain Fire Logs.
Eight wax and sawdust pucks infused with peppermint and cedar oils.
Scent expels for 3-4 months, just long enough a season to chase out hibernating mice, rats, chipmunks, groundhogs and squirrels.
Use in RV's, boats, attics, pool covers, spa cabinets, ATV's, winter cabins, etc.
For best results place in an enclosed space with minimal airflow to have smells permeate airspace.
When done with season, these are EXCELLENT fire starters! Just touch a match to these for a good 10 minute strong flame.
Comes in pack of 8 pucks.