---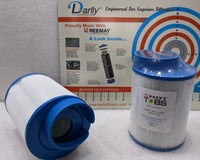 Back in stock! - ready for spring 2022...


Back in stock! - we've gone private label! 

 To avoid crazy price hikes and erratic supply chain issues we've partnered with Darlly Filtration to bring you Reemay brand protection that's high quality & affordable!
YES this is our custom version! and this one is the one piece- we've been testing on our rental fleet now for a bit and it holds strong!
For Softub Spas manufactured from Jan 2009 and before this date..
Smaller 3.5" attachment ring for old discontinued suction fittings.
Attachment ring is heat sensitive plastic that softens when warmed up to allow easy install and removal. Soak in tub for a while at temp before installation.